2021 Steel price increases and shortages
Steel is in high demand at the best of times and increased infrastructure projects from governments and post COVID bounce back has only increased this demand. While the need for steel remains at its highest level, the supply has decreased due to various factors, many of which are global in scale.
The significantly higher demand and a decreasing supply has resulted in near-record high prices across the board. However, at XL Structural Steel, we are able to manage the price increases and supply shortages with our purchasing system and current stock levels, so that our customers aren't as impacted by the current steel prices.
In this article, we'll discuss the cause of rising steel prices throughout New Zealand as well as explain how our purchasing system and stock levels safeguard our clients.
What is causing the price of steel to increase?
As with many other industries, businesses, and people all over the world, the COVID-19 pandemic hit the steel manufacturing and exporting industry hard. Steel-making capacity dwindled throughout the toughest points of the pandemic. As a result, when the worst of the pandemic had passed in New Zealand, steel manufacturers struggled to meet the recovering demand and restocking. This ultimately led to a speedy increase in prices.
It was said that up to 30% of global steel-making capacity (excluding China) was paused or largely reduced because of a huge drop in demand, courtesy of the pandemic. Of course, this meant that not long after the peak of the pandemic, the phased reopening of steel manufacturing plants, combined with their production rate, was not fast enough to satisfy the backlog and newly increased demand.
In fact, countries such as Russia have recently introduced an export duty on most steel products. This is either 15% of export prices or a metal-specific minimum rate, whichever is greater. All in an attempt to reach healthy stock levels domestically. Of course, this will have a large impact on global supply and prices.
With general inventory levels at all-time lows and re-stocking across the world creating more demand than usual, steel prices have significantly increased globally over the past year.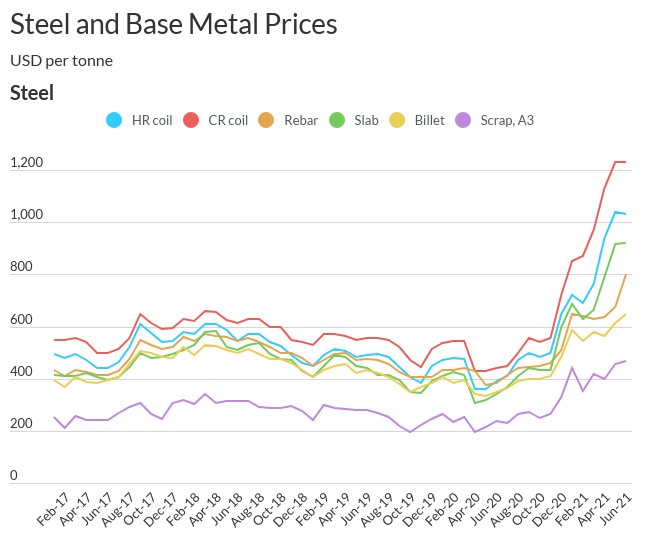 Graph sourced from Fitch Ratings
Additional pressure on steel supply is also being driven by constraints in global logistics. Many shipping routes are experiencing extensive delays, container shortages and an almost tripled freight rate over the past 12 months. As a result, it can be challenging to get steel stock to various locations.
One contributing factor is the container shortage at several locations. With some routes not receiving the same level of shipping, containers are not as readily available meaning some materials simply cannot be uplifted. Alongside this, there have been delays to ships arriving and departing ports due to strikes. Extra shipping surcharges are also adding to the cost problem across the globe. The issue isn't limited to overseas destinations. The wait times for ships to enter New Zealand ports has increased too. All of this has a domino effect meaning shipping rates are increasing and certain destinations being prioritised, which has resulted in some freight companies cutting back their shipping routes to New Zealand.
Shipping Australia chief executive, Melwyn Noronha, has noted a massive demand for freight has seen the cost of running a cargo ship increase exponentially, stating that, "The demand has surged as a result of COVID and that has created a huge demand for goods, and those goods have got to be transported on a ship".
2021 update
With steel prices at near record breaking highs, and some prices almost doubling from October 2020 to April 2021, it's expected that this upward price trend will continue over the coming months. Unfortunately, many steel distributors have to increase their customer-facing prices as a result of the wholesale price increases. Steel and Tube, a steel distributor, noted that "it was certainly an inflationary environment" and that they had to pass the costs on.
The price increase ultimately centres around supply and demand issues, but there are other contributing factors as well. For example, Mark Malpass (chief executive of Steel and Tube) stated that his steel mill suppliers told him that raw steel material prices had risen significantly due to a supply shortage as well as increased transport and container costs.
In fact, some mills are only holding steel prices for 48 hours which gives a lot of uncertainty on supply. Adding to this uncertainty, fabricators who buy off merchants may only get prices that are valid for one month which means that when pricing tenders for projects over 6-12 months a lot of it is simply guesswork.
Something else that has had a large impact on steel prices is that China has removed the 13% VAT rebate on steel exports (from 1st May). This is in order to increase domestic supply and deter exports. At the same time, they also removed the import duty on ferrous scrap steel to encourage the importing of steel. With China being the world's largest steel exporter (producing half of the global steel supply), this could have drastic effects on steel supply and prices over the coming months.
However, it's not all doom and gloom for XL Structural Steel. We have a system in place to provide assurance against the increasing steel prices, as well as keeping our inventory at healthy levels.
How we can provide assurances
A cautious and proactive approach to rising steel prices has been our best asset. We have been careful to maintain very good levels of stock; currently we hold approximately 1,400 tons of steel.
As we have the stock, we are able to assign material to projects once a deposit has been made. This insulates against future price increases as well as providing peace of mind on material availability. Typically, most fabricators don't physically stock any steel at all. Instead, they will buy it from a merchant who may or may not have the stock in their yard. This means they are limited to what they can guarantee on price or availability.
In addition to this, here at XL Structural Steel we are currently pricing projects out of different steel 'batches'. For example, if you're able to commit to a project we can price it based on the steel prices that we paid 6-8 months ago. This enables us to provide cheaper steel prices than if they had been bought at a later date (or from a different supplier), as well as certainty that materials will be ready by the set deadline. Although, as this stock gets assigned to jobs, we will need to start basing project prices on later steel imports which do come at higher prices.
We are doing all that is in our power with our purchasing system and stock levels to lock in pricing and stock for our customers. We want to provide assurance that we are able to supply our market-leading commercial and industrial buildings in the timeframe that suits our customers.
We take pride in our innovative steel building designs and engineering and promise to continue to deliver our clients nothing but excellent steel structures; when you choose XL, you get the best materials at a fair price. To learn more about our structural steel buildings and what we can achieve for your next project, simply click on the button below.